It's great when pairings based on Delipair's algorithm stir a discussion, because it gives me an excuse to double-check what could be questionable, or even potentially controversial pairings. So, thank you @mattwallswine for bringing this Twitter discussion on Fish Pie to our attention (and thanks also for trying a pairing on Delipair).
First, let's find a classic Fish Pie recipe with google. Here are three:
Judging from the Twitter discussion, the first recipe may be the one with the questionable wine pairing. However, to give you more insight on how Delipair works I'll shortly explain all three, and conclude with a subjective test of pairing Northern Rhone Syrah (£14.00 from M&S) with ready Gastropub King Prawns, Cod, Smoked Haddock & Salmon Pie (£7.50 from M&S). The ingredients of this match recipe no #1 above.
Let's start with a look at detailed pairings from Delipair for all those three recipes:
TOP 10 for Fish Pie from Jamie Oliver (with prawns)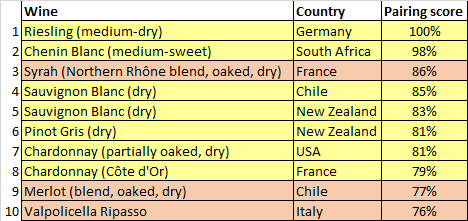 Looking at the results, Riesling is a clear winner, but Chenin Blanc, yes the medium-sweet one is very close. I understand that medium-sweet Chenin Blanc can be hard to accept for a wine lover, to sip alone, as it was for me (sorry, but I have no love for this wine). But with food, the Chenin Blanc is a pairing powerhouse, tried and tested. So if you are new to wine, and like to see what the fuss all about, that's the perfect entry wine. Just remember to have it with right food, because your dish will then take over the sweetness of the wine, gently introducing you to the world of other wine aromas.
TOP 10 for Fish Pie / Family Basic from Jamie Oliver (without prawns)
Here we have fourteen wines, because we have tie at #10, and our first red wine enters only at #13. When you enter this recipe into Delipair, you will get two white wines from top of the list, and the best possible red wine, even if the pairing is a bit worse. We set up our recommendations this way for those who may be specifically after a red, or a white. And because we have more than two white wines with very high pairing scores, we display other whites from the top of the list (ifs you refresh the webpage).
And this time there is no medium-sweet Chenin Blanc on the list! However, a dry French one fares quite well.
TOP 10 for Fish Pie in Four Steps from BBC Good Food (without prawns)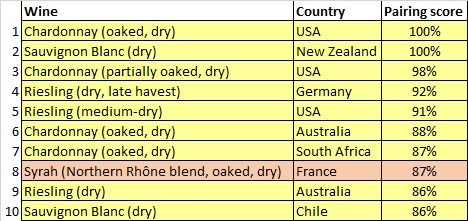 This third recipe brings yet another variation on our wine pairing recommendations. Again, no Chenin Blanc here, but the Syrah still scores all the points for the best red wine of the pack. As you can see, the variation of the ingredients between each recipe has a major influence on pairing suggestions from Delipair's algorithm, even though they all share the same cooking method.
I'd love to go into explanations of chemical aroma compounds, but this is already a long piece just on Fish Pie. Instead, let's look at the main Pairing Points for the best three wines of first recipe, which we always display underneath the recommendation results page.
German Riesling (medium-dry) pairing points: celery, haddock fillets, tomatoes, chillies
South African Chenin Blanc (medium-sweet) pairing points: carrots, celery, salmon, haddock
French Northern Rhone Syrah (dry) pairing points: king prawns, black pepper, parsley, lemon
The aromatic bridge between each dish and corresponding wine recommendations are built on different aromas. Doing this manually would be laborious, so we built Delipair to do the heavy lifting (in just a few seconds).
Take a look at the main pairing points for other two recipes, if interested. Here's a link to recipe #2, and recipe #3.
And now my subjective test: The Syrah and the Fish Pie! I tasted it, just for you (it's the one in the picture). To my surprise, I liked it. I have to admit that having a red wine like Syrah with a Fish Pie didn't cross my mind. But in Delipair I trust!
In this combination, food and wine have distinctive aromas on their own, which play together well thanks to a strong-enough aromatic bridge, built mainly on king prawns, black pepper, parsley and lemon. This bond became even clearer when I spiced up my chunk of a pie with extra black pepper! I could almost hear aromatic locks clicking in after my first sip of the Syrah. Enlightening, and a tasty experience it was.
p.s.
Note for wine geeks: During the short Twitter discussion there were other suggestions of wines for Fish Pie. Below you can see how those wines (marked with yellow dots) score against 120 wine aromatic fingerprints, looking at the first recipe, which was Jamie Oliver's (with prawns).
It's a decent performance for Viognier and Riesling, and if you have a taste for these wines you should be satisfied with them.
When we look at a more conservative Fish Pie recipe from BBC Good Food, the picture changes quite a bit. Apart from unoaked French Viognier, other wines are a good fit for this dish.