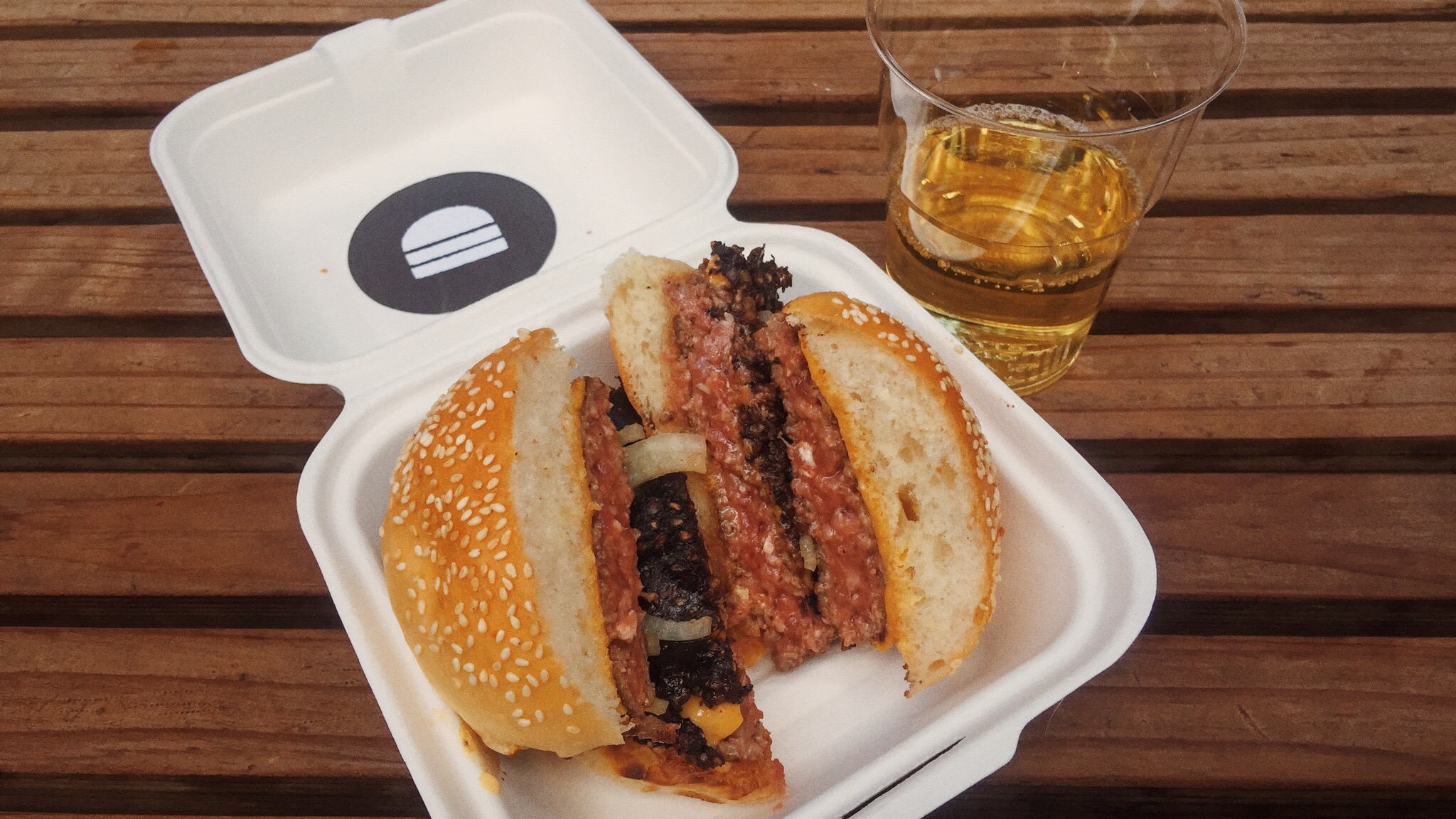 As part of my street food adventures in London, I visited Bleecker St. (@bleeckerburger), at Spitalfields Market (@spitalfieldsE1)
My meal choice was the Bleecker Black Burger at Bleecker St., and Delipar's wines recommendations were:
I went with best fit this time - Chardonnay (partially oaked, dry) from USA, which was £8,80 at Waitrose.
The wine alone had a characteristic vanilla note (American oak) on the nose, accompanying more crisp, fruity notes. There was also some vanilla sweetness on the palate, a sensation caused by the aroma, as the wine was definitely dry.
I had two approaches to this pairing. First, I bought wine, then bought Bleecker Black, but forgot the corkscrew (the wine was Californian, should have been a screw cap!). I asked couple of street food vendors, but nobody had corkscrew. So I sadly just ate the burger without wine. It was so good though, a real umami bomb of juicy, medium rare beef, haggis, American cheese and a soft bun absorbing all that juice like a sponge. I never thought I would say this about a £10 burger, but I immediately wanted to go buy another. Luckily, knowing I would return the following day with wine and a corkscrew, I was able to hold off.
The next afternoon I was properly ready to test the wine and food pairing, and see what value wine can add to the perfect burger. Well, almost perfect, as the haggis and sauce made the Bleecker Black quite a salty experience. Not to discourage anyone, but just to point out the need for an accompanying drink. With such a delicious burger, it would be a real shame to spoil the whole experience with a poorly paired drink!
This Chardonnay worked like a charm with the Bleecker Black. To begin with, there were plenty of aromas and tastes that both shared (grilled with oak vanilla, meaty juiciness with juicy fullness of tropical fruits). While the background crispness of the Chardonnay let it stand on its own, additional aromas were brought to the table and swiftly killed the Black's over-saltiness. The whole experience was so delightful that I felt even less guilty for paying £10 for a burger on the street, and on two consecutive days!